Είναι ο Δαβίδ Ι των Ελληνικών Ενόπλων Δυνάμεων , ο οποίος είναι Άρμα τύπου Leopard 1, που μετατρέπεται σε Άρμα πυρόσβεσης με τεράστιες δυνατότητες πρόσβασης ,σε έδαφος που δεν μπορούν να πλησιάσουν ,τα παντός Τύπου Οχήματα της ΠΥ
Στη περιοχή του Αιγαίου οι μαζικές πυρκαγιές είναι οι καταστροφές που συμβαίνουν πολύ συχνά τις καλοκαιρινές ώρες λόγω της υψηλής θερμοκρασίας του καιρού που μπορεί να φτάσει μέχρι και 45 βαθμούς σε συνδυασμό με το χαμηλό ποσοστό υγρασίας…
Έτσι οι Παλαβοί Έλληνες μετέτρεψαν Στρατιωτικό Τεθωρακισμένο ,ώστε να μπορεί να χρησιμοποιηθεί από κάθε οργανωμένη Στρατιωτική Μονάδα για την καταπολέμηση των δασικών πυρκαγιών ,που μπορεί να συμβούν πολύ εύκολα ,ανά πάσα στιγμή και όχι μόνο από απροσεξία!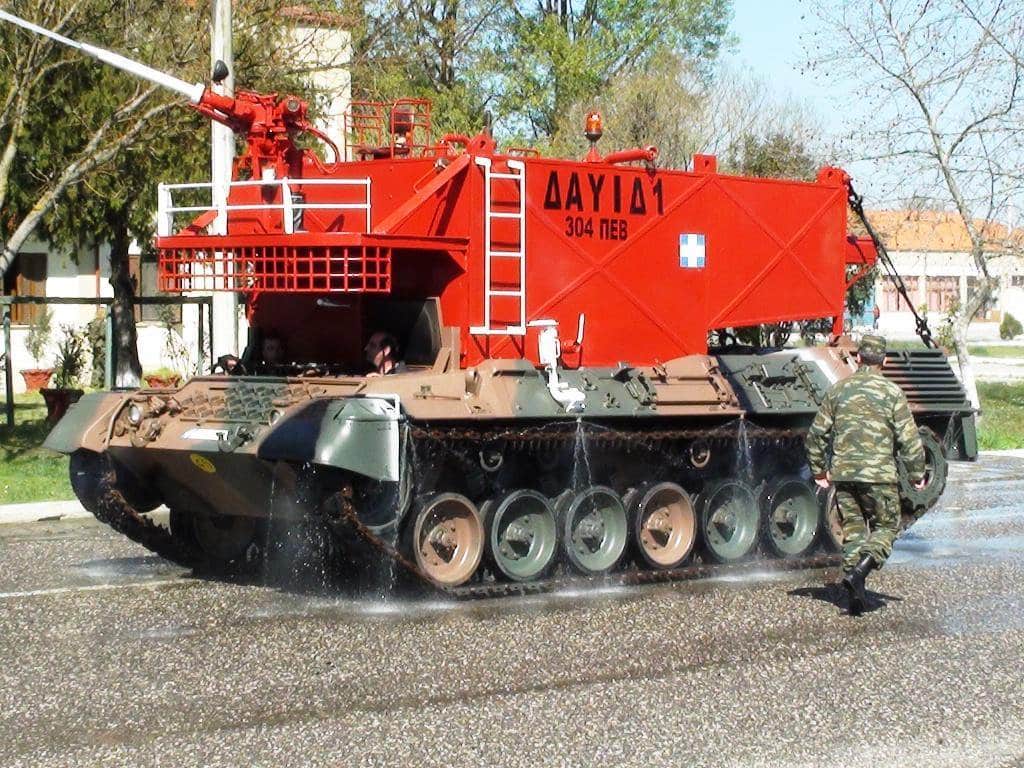 Το Άρμα Πυρόσβεσης προκάλεσε την έκπληξη των Διεθνών Στρατιωτικών Αναλυτών που έγραψαν σχετικά:
It must be the David I which is a Leopard 1 converted into a firefighting vehicle by . In the Aegean geography the mass-scale forest fires are the disasters which happen very oftenly in summertimes due to the high weather temperature that may goes up to almost 45 degrees in combination with the low rate of humidity so you gotta use every single organized unit including army corpses to combat against forest fires may occur very easily.